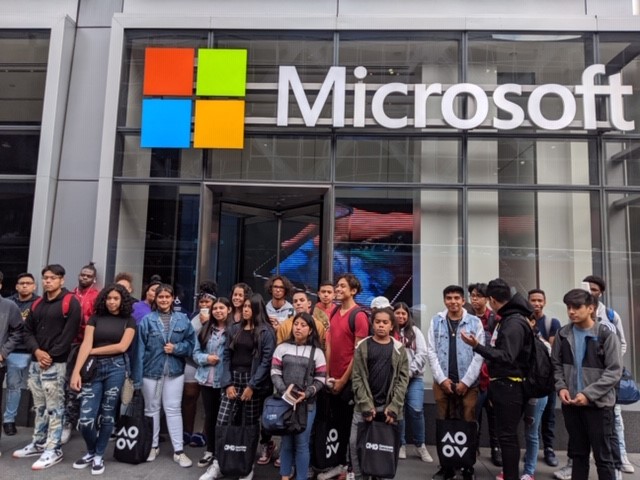 STEM Conference at Microsoft

Liberty Partnerships
On September 30, 2019, several Liberty Partnerships Programs (LPPs) and other youth-serving organizations attended a STEM Conference at Microsoft Headquarters in New York City. The event was sponsored by Microsoft, Omnicom Media Group, Qualitas of Life Foundation, and the Hispanic Alliance for Career Enhancement (HACE) in honor of Hispanic Heritage Month. Individuals from 10 organizations, 88 students, 13 chaperones, and 16 volunteers attended. Students from the following organizations attended:
Bank Street College of Education LPP-New York, NY
Columbia University LPP/Achievement Initiative- New York, NY
Fordham University LPP- Bronx, NY
Marist College LPP- Poughkeepsie, NY
Marist College Upward Bound- Poughkeepsie, NY
North Rockland High School- Thiells, NY
Poughkeepsie High School/SUNY Dutchess Community College E-Tech- Poughkeepsie, NY
Queensborough Community College LPP- Queens, NY
SUNY Orange Community College LPP- Newburgh, NY
SUNY Rockland Community College LPP- Suffern, NY
Students had the opportunity to interact with Microsoft's cutting edge gaming technology and learned financial literacy skills from Qualitas of Life. Winners from the Hack-a-thon each won $25 gift cards, courtesy of Omnicom. Marist College LPP Director, Melinda E. Martinez, organized the event through her HACE affiliation. HACE will be hosting another STEM conference on 11/15/19 at Microsoft. Please refer to the attached document for more information.