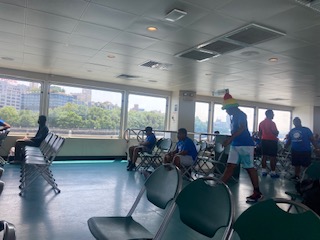 Hunter College LPP Sets Sail on a Memorable Circle Line Cruise
The Hunter College Liberty Partnerships Program embarked on an unforgettable journey aboard the Circle Line Cruise, which offered a unique blend of education, adventure, and camaraderie.
The program's students and staff traveled the waterways that have been central to the history of New York City, giving them a better understanding of the city's heritage and architecture.

For the Liberty Partnerships Program, education extends beyond the confines of a classroom. This summer cruise was a prime example of experiential learning at its finest. Participants had the opportunity to learn about the city's most iconic landmarks, including the Statue of Liberty, Ellis Island, the Brooklyn Bridge, and more, all while floating along the Hudson and East Rivers.

This above photo features some of our students and staff taking in the sights along the Hudson and East Rivers.